Calendar for Jira - Plan Team Activities
for Jira Cloud, Jira Server 8.0.0 - 8.18.1, Jira Data Center 8.0.0 - 8.18.1
and more
Supported

Jira Service Management
Overview
Reviews
Pricing
Support
Versions
Installation
Calendar helps you plan any kind of personal and team's activities, no matter who are you - marketer, HR, legal or project manager
Plan all activities in one view
Teamlead Calendar will help you to plan a team or your personal activities in a central place to keep schedules up to date. Сreate new issues, plan existing, schedule events unrelated to Jira or connect Google Calendar.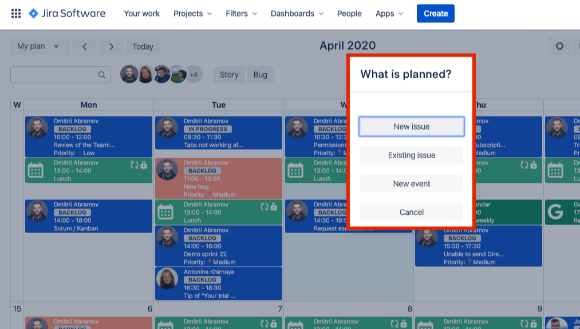 Highlight and stay focus
Customize card colors to see the most important tasks right away.
Don't forget to add details - choose the information to be displayed on the task cards. Group and filter all issues to your specific requirements.
Timeline view
Switch to a team calendar easily to see the workload of your teammates and be able to schedule workload accurately. Get a full picture of your workload by importing events from external calendars.
More details
Calendar for Jira add-on built by Teamlead, Atlassian Gold Solution Partner.
Key highlights:
Every user can create an unlimited number of calendars and share them with any Jira users.
You can create new issues right from the Calendar, plan an existing one or add event not related to Jira issue.
You can connect your Google Calendar and make Jira a central place to keep schedules up to date.
Filter and colorize issues for your convenience to highlight the foremost.
Any view - week, month, list, and day standard view. Timeline view for every timeframe.
Customize what to display on card and legend.
New features are coming! Take a look at our Roadmap 🤩
Our team is ready to customize Calendar for Jira in accordance with your requirements.
Ready to get closer with Calendar for Jira - request online presentation with our expert.
Privacy and security
Privacy policy
Atlassian's privacy policy is not applicable to the use of this app. Please refer to the privacy policy provided by this app's vendor.
Vendor privacy policy
Security
This app is not part of the Marketplace Bug Bounty program. Learn more
This partner has completed the Security Self-Assessment Program. Learn more
Integration Details
Calendar for Jira - Plan Team Activities integrates with your Atlassian product. This remote service can:
Administer the host application
Administer Confluence spaces
Administer Jira projects
Delete data from the host application
Gallery
Your own week-mode calendar.