Table Library for Bob Swift Add-ons
for Confluence Server 6.13.0 - 7.13.0, Confluence Data Center 6.13.0 - 7.13.0
and more
Overview
Reviews
Support
Versions
Installation
The Table Library contains shared Confluence components used by Advanced Tables, Excel, SQL, and other Bob Swift apps
Auto-numbering auto totaling
Options for auto-numbering rows and auto-totaling numeric columns.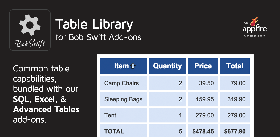 Data-specific sorting
Sort different data types such as string, integer, float, currency or similar numeric values, dates, emotions, separated numbers like phone numbers, and more.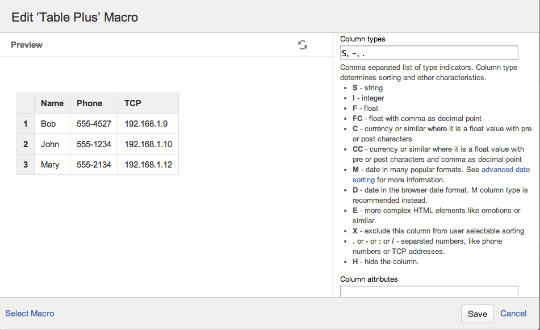 Styling options
Style by row or column. Row styling will automatically repeat.
More details
**This app cannot be used independently.**
It is a library to enable other apps to use advanced table capabilities like column sorting, automatic totaling and numbering, and customized attributes. It is normally installed automatically by the following apps that currently use it:
There is also a Data Center approved version of this app that has been extensively tested for performance, reliability, and scalability.
Appfire helps great makers build what's next. Our growing portfolio of apps empowers teams worldwide with workflow automation, business intelligence, and administration at scale.
Privacy and security
Privacy policy
Atlassian's privacy policy is not applicable to the use of this app. Please refer to the privacy policy provided by this app's vendor.
Vendor privacy policy
Security
This app is not part of the Marketplace Bug Bounty program. Learn more
Gallery

Example - sorter emotions